Buy Welding Blankets
The Welding Blankets of CEPRO are excellent to provide shielding against sparks and welding spatter. These heat resistant blankets are used in siuations where welding sparks can cause damage or fire to its surroundings. To prevent against sudden fire or damaged goods due to welding and grinding spatters and sparks welding blankets are the ideal and flexible solution.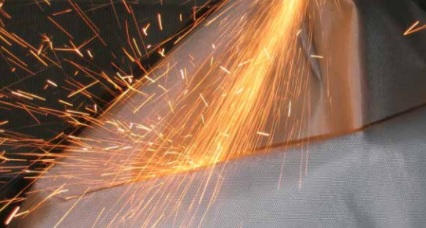 The product features
Manufactured according to the specifications of the European Fire Resistance standards
Available in full rolls
Large variety standard blankets
Do not contain any asbestos or ceramic fibres
All of the materials that are used are approved according to the highest applicable standards
Areas of application
The welding fire blanket are succesfully used in large variety of industrial area's. For example an international leading Dutch shipyard is using CEPRO welding blankets to protect vulnerable parts during welding works of the ships they are building. As a result there is less damage and the productivity has risen considerably.
Other fields of use:
Oil rigs
Automotive / car repair
Foundries
General maintenance
Construction

Types of Welding Blankets
CEPRO has three types of welding blankets:
Heavy duty
Medium duty
Low duty
Heavy duty blankets
The heavy duty welding fire blanket offers a great deal of protection against the surroundings and is made of a extreme heat resistant fabric, the high quality Silica. The Olympus offers its surroundings protection up to a 1300 ºC. The blanket is made for 96% of SIO2 and weights  1,220 gram/m², the blanket is heavier than the other types but offers the best protection.
The blanket is available in two dimensions:
90×200 cm (minimum order quantity 72 pieces

per colour

)
180×200 cm (minimum order quantity 36 pieces

per colour

)
Medium duty blankets
The medium welding blankets are made of Thetis texturized fiberglass cloth, that is coated on both sides with graphite and has a PU-coating. These heat resistant blankets can hold temperatures up to 900 ºC, weights 1100 grams/m² and the material is 1.5mm thick.
The blanket is available in three dimensions:
200×200 cm (minimum order quantity 72 pieces

per colour

)
Per roll of 1×25 meter
Low duty blankets
A much lighter blanket is the low duty welding blanket made of thermo-glass fabric with a grey fire-retardant PU coating on one side. The blanket can protect its surroundings against 600ºC, weigths only 690 gram/m².
Available in three dimensions:
200×200 cm (minimum order quantity 72 pieces

per colour

)
Per roll of 1×25 meter