Buy Welding Curtains
CEPRO developed welding curtains of heat resistant fabric which provide protection to welding projections and welding heat. These curtains also protect the bystanders against the hazardous radiation emitted during welding work.
CEPRO curtains comply with the very strict requirements of the European standard for welding curtains: ISO EN 25980, this specifies the safety requirements for transparent welding curtains, screens and strips.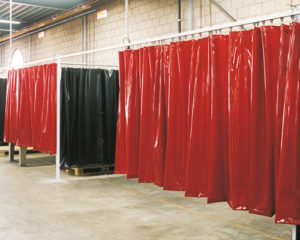 Product features:
Made from 0.38 mm thick PVC
Size 180 x 180 cm (6' x 6')
Fitted with a unique snap fastener system for interconnecting several curtains
Fully seamed all around with 5 cm wide seams
Fitted with eyelets all around
Seams, eyelets and snap-fasteners are high frequency sealed for an extreme strong fixing
Steel suspension-rings for tube with a max diameter 1" are included
Welding curtains are transparent so in case of emergencies, bystanders can quickly react on the situation and can see what is going on. The transparency of the curtains is also to prevent a claustrophobic feeling with the welder.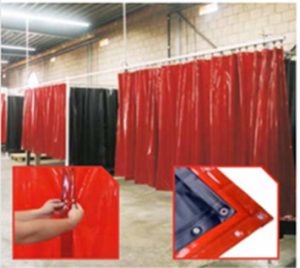 Without creating a safe welding area with the protection of a welding curtain bystanders are exposed to the hazardous radiation and vulnerable to the effects of this radiation. Like welding eyes, skin burns and even skin cancer. So to prevent long term absence of illness and dangerous situations, welding curtains are a must-have.
The Cepro welding curtains are the ideal protection for all bystanders against these dangers. Besides welding curtains we offer different other products for protection against welding and grinding.

To create more flexible welding booth we have a range of moveable welding screens, other possibilities for safe and approved protection are:
There are also welding tents for outdoor welding, so bystanders are protected against the hazardous radiation and keeps the welder clear of the weathercast like rain and wind.
Minimum order quantity 100 pieces per colour.