Buy Welding Screens
The Cepro Gazelle welding screens are used when the end-user has no possibility to mount welding curtains to a rod or rail profile as to create a fixed welding bay. With the Gazelle welding screens you can easily create flexible or temporary welding spots. The screens create a just as safe welding environment for bystanders as welding curtains.
Product features: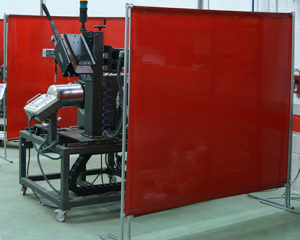 The very pratical Gazelle is a basic screen to shield weldings spots
The screens are produced from galvanised pipe
Very light weight and can be easily moved by hand.
The screen is provided with a 170 cm high curtain
(leaving 40 cm floorspace)
Packed in a cardboard box measuring only 120cm
therefore easy to send through the regular parcel
services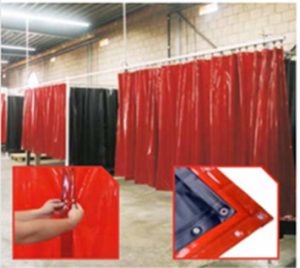 The screens are available in two colors:
CEPRO Orange-CE
CEPRO Green-6
These screens will filter the hazardious radiation and allows the welder and bystander to see through the welding screen. So in case of emergencies bystander or the welder can take action to prevent any injuries. the see-through screens also ensures that the welder does not suffer from a claustrophobic feeling.
Minimum order quantity 40 pieces per colour